Is the correct spelling, "Here, here!" or, "Hear, here!" when you agree with what someone is saying? Meanwhile, should you write, "Hear ye" or, "Here ye?" and what is the meaning? How can we tell the difference between the homophones here and hear, anyway?
Never fear, because this English teacher-artist is here to the rescue to explain, using hand-drawn cartoon illustrations to help you remember!
Here vs. Hear
Let's start at the foundation by distinguishing between here vs. hear, then build towards understanding phrases with each word.
"Here" means, "in or at this place." Meanwhile, "hear" means to listen and bring in sound information through one's ears. Here (haha!) below is my illustration of a way to remember the difference.
Remembering These Homophones
As my cartoon above shows, you can remember the spelling of "hear" because you hEAR with your EARs, meaning that it's about sound. Meanwhile, you walk from hERE to thERE, meaning the word "here" is about location and something or someone being present at a nearby place.
Got it? Good. Now let's go to the next level of using these homophones in common phrases.
Here Here or Hear Hear?
If someone is making speech or saying something you agree with, you can express your affirmation by exclaiming, "Hear, hear!" (also punctuated: "Hear! Hear!"). People may utter this after a toast, or in government proceedings.
This phrase is NOT spelled "Here, here." Why is that? It comes back to the meaning of each word.
The Meaning Dictates the Spelling
The exclamation is spelled "Hear, hear" because when you're saying the phrase, it's a shortened version of the old fashioned: "Hear them!" (as with Parliament), or "Hear ye, hear ye!" (as with old fashioned Town Criers), meaning that what what is being said is important, and deserves attention from the ears and mind. Because this phrase is about listening and ears, not location, we use the spelling "hear," not "here."
In my illustration above, a blue-haired woman is giving a speech about how she wants everyone to have free EARrings. This should help you remember what the correct spelling of the response would be!
VIDEO: Hear vs. Here Spelling
Here and Hear, in Sum
I hope this article and my educational yet cute drawings have solved your dilemma about how to spell the commonly confused words, here and hear. What would you like me to illustrate next? Do share!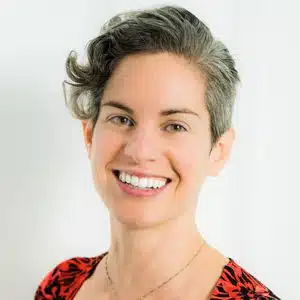 The author and artist, Lillie Marshall, is a National Board Certified Teacher of English who has been a public school educator since 2003, and an experienced Reiki practitioner since 2018. All art on this site is original and hand-drawn by Lillie. She launched DrawingsOf.com Educational Cartoons in 2020, building upon the success of her other two sites, AroundTheWorldL.com (established 2009) and TeachingTraveling.com (founded 2010). Subscribe to Lillie's monthly newsletter, and follow @WorldLillie on social media to stay connected!
SUBSCRIBE to Get Updates!
Stay in the loop with twice-monthly emails of new, FREE resources, and no spam.