Welcome to Drawings Of…
Want to smile AND learn? This site is bursting with entertaining educational cartoons — from English lessons to art and life inspiration — for anyone of ANY age. You can even shop clothes and posters created by Lillie, and request new illustrations!
All happy art here is hand-drawn by Lillie Marshall: a writer, English teacher, and artist from Boston. Click to…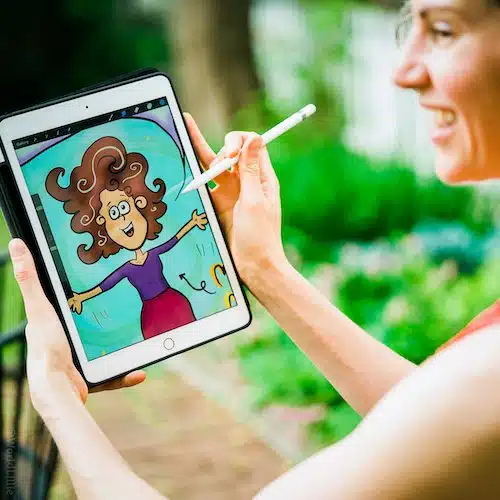 I've been a public school English teacher for almost two decades, and one of my favorite methods for teaching vocabulary, grammar, hard words to spell, and ELA concepts is to illustrate real-life situations to explain how these lessons are useful to our actual world, beyond the walls of a classroom or the pages of a textbook. Whether you're a student, teacher, or any human who would like to expand understanding, dive into these articles and videos to learn!
For more English language lessons, check out the sections: common homophones, figurative language examples, commonly confused words, and literary terms.
Creative expression is one of the most important aspects of learning — and happiness — in the world. These fun and inspiring articles help show all sorts of sides of art (including visual representations of life ideas, illustrated), and can guide you on your own drawing journey and world. Of special note is my giant and ever-growing color mixing chart, in which I swirl together ever possible pigment to see what happens.
Artistic Symbols:
Ever notice that everyday symbols can be beautiful? Check out these explorations of the Pi Symbol, and others!
Looking for a short, interactive, and silly-fun story to read to a nearby child — or maybe to take your adult mind off other things? These random tales will leave you grinning and uplifted!
Common Homophones:
See my giant, growing list of common homophones, illustrated, or check out the most popular pairs of words that sound the same but are spelled differently and have different meanings!
In addition to being an English teacher, I run a Reiki energy work practice. That, paired with my mindfulness work, has led me to some fascinating chakra colors visualizations that I've drawn and written about here about seeing colors during meditation. It's been amazing to hear from so many readers who experience similar phenomena!
Most Popular Posts:
Though I love all the articles on Drawings Of… Educational Cartoon Site, these have risen to the top as most beloved by readers around the world! Maybe you'll find a new favorite here, yourself. Happy art browsing! You can also see ALL the posts on this site in chronological order.