Drawings Of… was created by Boston artist and English teacher, Lillie Marshall, to share her hand-drawn educational cartoons and happy art to help illustrate concepts (hello, homophones and figurative language!), experiences (quitting coffee and meditation colors, anyone?), short stories… and wild images to make you chuckle.
Because Lillie has taught every age, from elementary school, to middle school, high school, and adults, the articles and lessons on this site have proven useful to people of all ages. Have a desire for an article illustrating something? Submit your drawing request here. Lillie will let you know if your submission is selected and created!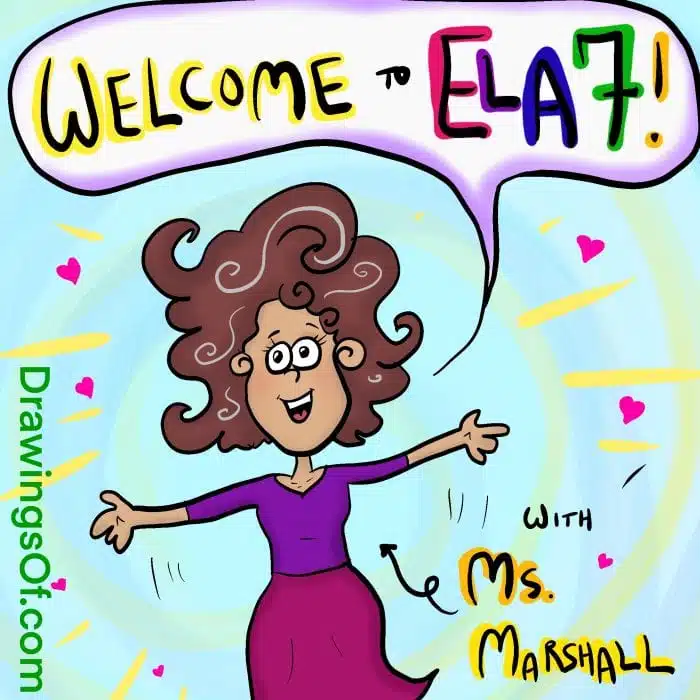 Who is the Artist, Lillie Marshall?
Hello! My name is Lillie, and I'm a six-foot-tall English teacher, artist, writer, athlete, Reiki practitioner, and mama from Boston, Massachusetts.
I ran a daily cartoon at Brown University from 1999-2003 and provided art for various companies in the years after that, but took a pause from public cartooning in 2009 after launching Around the World "L" Travel and Life Blog to focus on my photography and prose.
I never stopped drawing, though! As a full-time public school ELA teacher starting all the way back in 2003, I've used my cartoons frequently to explain concepts to students. Over time, the idea began to emerge: Could these illustrations be expanded to a wider audience? After starting Teaching Traveling Global Education Site in 2010, I became increasingly inspired by the many ways educators engage beyond their classrooms.
When everything shut down in 2020 — including travel and in-person teaching (two things that had taken many of my hours) — I realized that the moment was NOW to launch this third website: a site completely focused on my artwork, and how I use it to teach about the world. It has made me extremely happy already, and I thank you for coming by.
What Medium is Used for this Artwork?
To create these cartoons and works of whimsical art, I use a seventh generation iPad, Apple Pencil, and the app called Procreate. Let me know if you have suggestions for this or other gear.
Who is This Site For, and How Do I Use It?
Drawings Of… is for anyone who enjoys smiling, learning, or thinking. Since I teach 7th grade, all art on this site is appropriate for all ages, and much of it is educational, including an English lessons section.
Because I'm also a full-time Reiki practitioner who specializes in chakra balancing, I'm always adding to the energy colors section of this site. Since I'm a mother to two young kids, there's also a section for silly, short Kids' Stories, since I know how useful and entertaining those can be! You'll also find art inspiration and useful life ideas, illustrated, including art prompts to get creativity flowing.
Click around, see what interests you, and feel free to add comments and share! Speaking of sharing…
Can I Share These Articles and Drawings?
You are always welcome to share links to articles housed on this site for new readers to see. Some of my educational posts may be of particular interest to teachers wishing to assign them alongside lessons. If so, feel free to have students leave comments or questions, which I will respond to.
Regarding taking my drawings and sharing them elsewhere: It's of utmost importance to give artists credit, so if you choose to share one of my images, please make sure to clearly attribute it to DrawingsOf.com and have a clickable link in easy sight so people know where it came from and can find the rest of my work. Please do not reproduce more than one picture without my explicit permission.
Can I Buy Lillie's Art?
Thanks to reader requests, there is now a "Shop!" section of this site, in which you can buy colorful clothing hand-designed by Lillie, posters of Lillie's art, and printables and worksheets. If there is something you'd like to buy that isn't yet in the shop, feel free to contact Lillie to request it.
Are There Books by Lillie?
There now is an expanding set of paper children's books by Lillie Marshall available for purchase on Amazon! See the growing listing of Lillie's books here.
Are There Videos of the Drawings?
You're in luck! Every article has a time-lapse video embedded which shows my entire illustration process, slips and all! You can click to see and subscribe to the full Drawings Of… YouTube Channel. Below is a video of one of my drawing films.
How Do I Contact the Artist?
Thanks for your interest in reaching out! You can use this contact form, or email me at Lillie at DrawingsOf dot com. I'd also love if you took a moment to leave a note on the Testimonials page if you've gotten good use out of any of the lessons on this site. Feel free to also connect via social media, especially Pinterest and Facebook. See you around!
Enjoy, and feel free to leave any comments or questions! I look forward to hearing from you.
Tempted to click another article? Go for it!