Which cartoon does a gal pick to create for the first post on her new drawing blog? Upon reflection, the answer was clear: a cactus. But not just any cactus — a friendly one, proudly declaring his identity!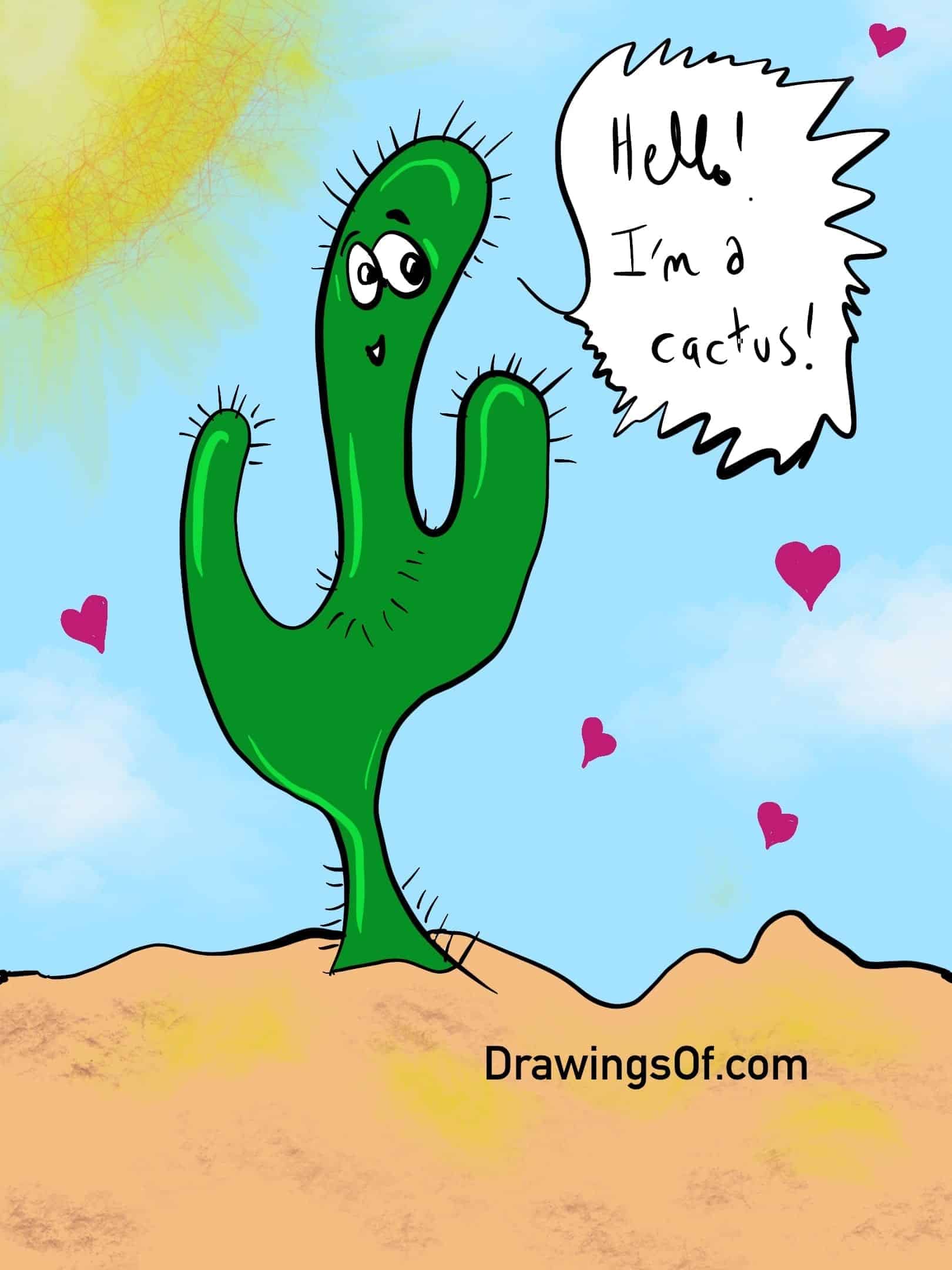 Why Draw a Cactus?
I mean, why NOT draw a cactus? But in all seriousness, there were several reasons I picked it. First, I was feeling nervous — PRICKLY, even, to sketch the first drawing for this new happy art site.
Would I still be able to draw after all these years away from my daily cartoon? Would drawing digitally with a stylus and the ProCreate app on my new iPad be a smooth transition after years of paper and pencil? The answer to both these questions was, blessedly, YES!
Second, this actually came to me in a dream. While drifting off to sleep last night, the image of a happy cactus appeared. Something about the swoop of the spiky guy's body lines caught my spirit. After so many years of not drawing daily, those smooth cactus limbs called to me — as did the jaggedy spikes to add after.
Time-Lapse Video of Drawing the Cactus Cartoon:
Indeed, Mr. Cactus did not disappoint, and the curves of his limbs were every bit as delightful to draw as the vision predicted. (Edited add-on a few months later: I enjoyed creating these similar face and body curves in my subsequent octopus cartoon and certain aqua creative drawings.)
I hope you enjoy gazing at Mr. Cactus! What shall I draw next??? (If you want an idea of the weird stuff I like drawing, check out this tulip cartoon my friend requested.) Do feel free to suggest an idea in the comments below…
Tempted to click another article? Go for it!
The author, Lillie Marshall, is a 6-foot-tall artist and writer from Boston who has been a public school teacher since 2003. In addition to Drawings Of… Educational Cartoon Site, she runs Around the World "L" Travel and Life Blog, and Teaching Traveling Global Education Community. Stay connected through the social media and newsletter links below!