Ho, ho, hooo! Looking for a Santa drawing, either to use or make for Christmas and beyond? You've come to the right place, because this is your hub for easy, cute drawings!
My name is Lillie, and I'm an artist and teacher, and will walk you through the aspects of how to draw Santa (and his Santa hat, too) in a cartoon style — explained my my hand-drawn illustrations. This is slightly different from my sea urchin drawing tutorial because the lines we will make today are soft and fluffy instead of spiky… but variety is the spice of life, so let's dive right in.
Santa Hat Drawing
Let's start with how to do the Santa hat drawing, because everything else flows from that. I always start with the poofy lower edge of the hat, and keep in mind the visual of a fluffy sheep — like in my illustration for my Topic vs. Theme lesson. Bring your pen in and out in "U" shaped curves to simulate cloud-like softness.
Now that you have the white base of the hat, bring up the pen for the body of it, making a simple triangle if you want an easier version, or a triangle with a bent top, as I have done in my cartoon above, indicating that the hat is flopping to one side. Holiday drawings for the win!
Top off your Santa hat drawing with a pom-pom of white at the end. One of the benefits of drawing is that you get to choose your level of difficulty with the art you make! Do what works for you.
How does one do shading to make white things look three dimensional? I use a blue and purple-toned gray, and brush it along the lower and side edges. Adding the color tinge instead of straight gray livens things up, in my opinion.
How to Draw Santa
Now that you have the Santa hat, draw two big eyes underneath it, bushy eyebrows and a curved mustache, a beard ten times fluffier than the hat's base, and a big, round body with pom-pom buttons. As we learned from our octopus drawing tutorial, leaving a sliver of white in each pupil of the eye gives that special glint of joy.
For Santa's suit, make sure to put big buckles on the belt — similar to our leprechaun drawing for St. Patrick's Day. After coloring in Santa's suit red, add some shading of darker red to make him seem rounder and more cuddly — as we did with our Easter egg drawing to show the roundness. You can then begin to decorate the background.
For the background, I recommend using green, because not only are red and green classic Christmas colors, but they're also complimentary colors — across from each other on the color wheel — meaning they look great together, and will make your art "pop!"
VIDEO: Drawings Santa
I hope this piece on drawing Santa and the Santa hat, too, has been enjoyable as well as enlightening. Keep your requests for drawing prompts coming!
Want more? Check out the history of Santa, "Why is Art Important?" and "Valentine's Day spelling," plus more cute drawings.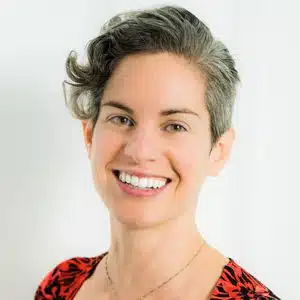 The author and artist, Lillie Marshall, is a National Board Certified Teacher of English who has been a public school educator since 2003, and an experienced Reiki practitioner since 2018. All art on this site is original and hand-drawn by Lillie. She launched DrawingsOf.com Educational Cartoons in 2020, building upon the success of her other sites, AroundTheWorldL.com (established 2009), TeachingTraveling.com (founded 2010), and ReikiColors.com. Subscribe to Lillie's monthly newsletter, and follow @WorldLillie on social media to stay connected!