So… I wasn't going to do any cute drawings for St. Patrick's Day this year — my plan was just to enjoy the holiday, eat green things, and revel in how much fun the geeky festival of Pi Day had been. But then! I poked around online at the images available for leprechauns, rainbows, and pots of gold… and I just couldn't resist adding my twist on the holiday art out there. I picked up my drawing tools and began sketching a shamrock drawing, myself.
My thing is this: Why do we always need to draw shamrocks the same way? What if… what if they had happy faces? If you look at them this way, the side petals are just like arms, and the top one can be personified (figurative language) into a head with a simple stroke of my pen. Isn't she cute?
Are Shamrocks 3 or 4 Leaf Clovers?
Now, in order to avoid the anatomy debacle I had with certain snail drawings and adorable yet inaccurate sea urchin art, I did my research first this time. The question at hand: Do shamrocks have three or four petals?
In other words, are shamrocks the same as 4-leaf clovers? The answer was resounding: a shamrock is a three-leaf clover with only 3 petals… but each petal is shaped by a heart, and that's downright delightful.
Leprechaun Drawing…
Once the shamrock drawing was done, it was time to turn to the leprechaun! As you can see from my sketch below, I put the jolly little guy in front of a drawing of a rainbow, dressed him in a dapper green suit (every shade of green imaginable), then gave him pointy ears, shoes with curly flipped-up toes, a red beard, and buckles on his hat, belt, and shoes. (Our Santa drawing had buckles, too! They really complete the outfit.)
Correctly Writing "Happy St. Patrick's Day"
Now, because I'm an English teacher in addition to being an artist, I can't resist some quick lessons. First, just as with spelling and punctuating "Happy New Year's!" and "Happy Valentine's Day," you should write, "Happy St. Patrick's Day" with all capitalized first letters, and an apostrophe after Patrick, because the holiday belongs to him. Usually the "Saint" is abbreviated as "St."
How do you spell leprechaun correctly?
So… how to spell leprechaun? It's one of the hardest words to spell in English — that's for sure. Quick tricks to remember how to write leprechaun: there's an "E," not "A," after the "R." The middle has a "K" sound, but is spelled with "CH." Finally, the end of the word is spelled "AU" instead of just "A." The correct spelling is: LEP-RE-CHAUN. Sheesh!
VIDEO: St. Paddy's Day Cartoon Art
St. Patrick's Day and Shamrock Drawing, in Sum
I hope you've enjoyed this St. Patrick's Day cartoon art, including our shamrock drawing, and the lesson on how to spell "leprechaun." If you want an Easter egg drawing tutorial to keep the holiday art going, I've got you covered. What other holidays should I illustrate? Do share!
Want more? Get easy, cute drawing ideas, including how to draw the wind, and a cute frog drawing…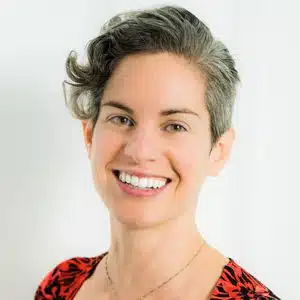 The author and artist, Lillie Marshall, is a National Board Certified Teacher of English who has been a public school educator since 2003, and an experienced Reiki practitioner since 2018. All art on this site is original and hand-drawn by Lillie. She launched DrawingsOf.com Educational Cartoons in 2020, building upon the success of her other sites, AroundTheWorldL.com (established 2009), TeachingTraveling.com (founded 2010), and ReikiColors.com. Subscribe to Lillie's monthly newsletter, and follow @WorldLillie on social media to stay connected!