Homophones are Frequently Mixed Up
When two words sound the same but are spelled differently and mean different things, those are called homophones — and they can cause much confusion! A homophone that is frequently mixed up is "Awe" and "Aww," meaning people end up writing something that doesn't really make sense.
What's the difference between the two words, so we can use them correctly? Let's start with understanding the awe and aww meaning, individually.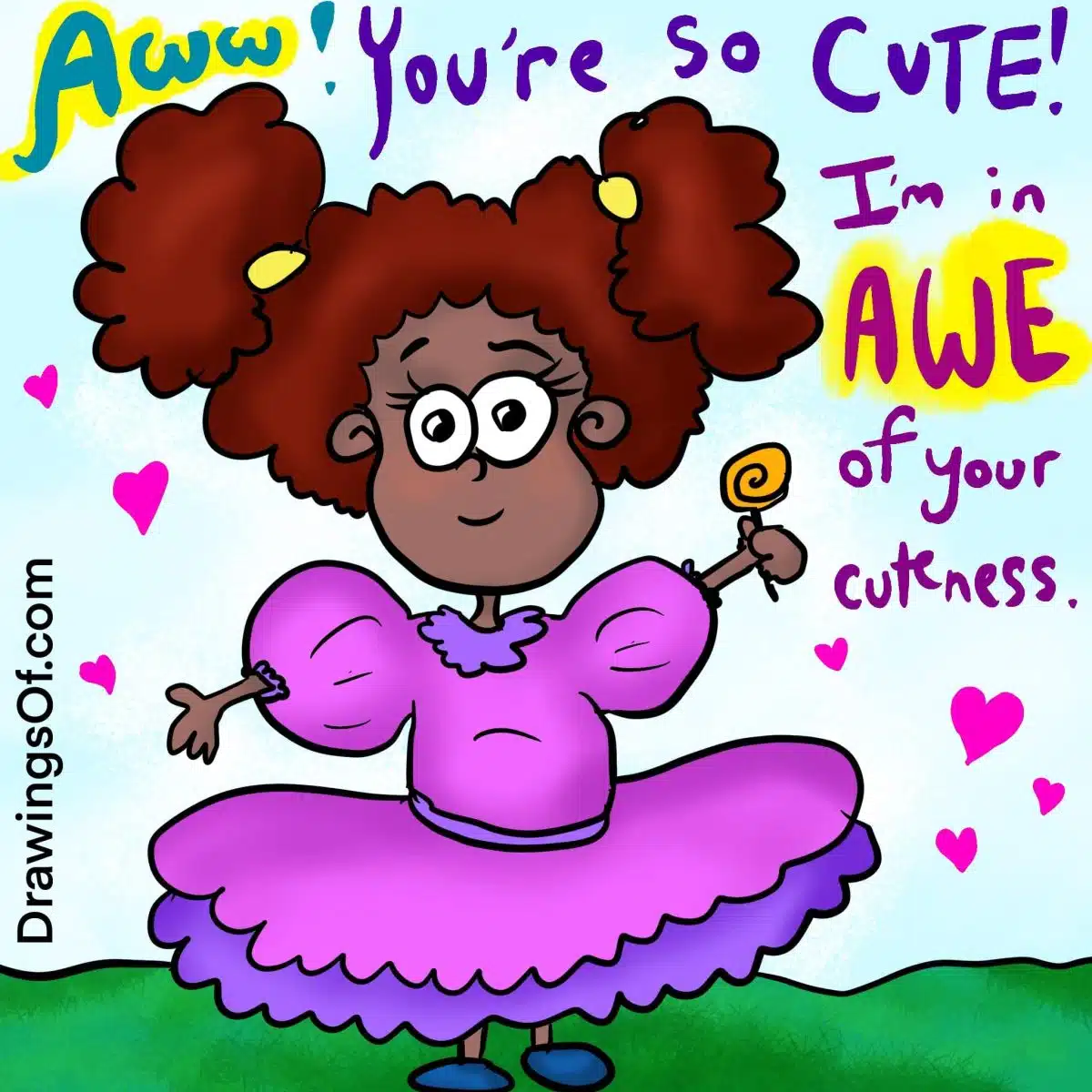 What is the Definition of "Awe?"
Awe is either a noun or verb, depending on the context. As a noun, "awe" is the feeling of amazement and surprise that comes from being impressed by how grand something is.
Often it comes with a sentiment of feeling small in juxtaposition with the hugeness (either literal or conceptual) of the thing causing the awe. There can even be some fear mixed in.
As a verb, "to awe" means to cause those feelings of amazement, impressing others. Unlike "Aww," the word "awe" is rarely used on its own. It's supposed to be embedded inside sentences. Let's see some…
Examples of Awe in Sentences
Sentences with "Awe" Used as a NOUN:
I am in awe of how big that dragon is! It makes me feel like a tiny speck in comparison. Wowza!
The boy felt awe, watching the expert way his parents fixed the statue he had broken. Their hands moved as if by magic! Maybe someday he would also have that level of skill.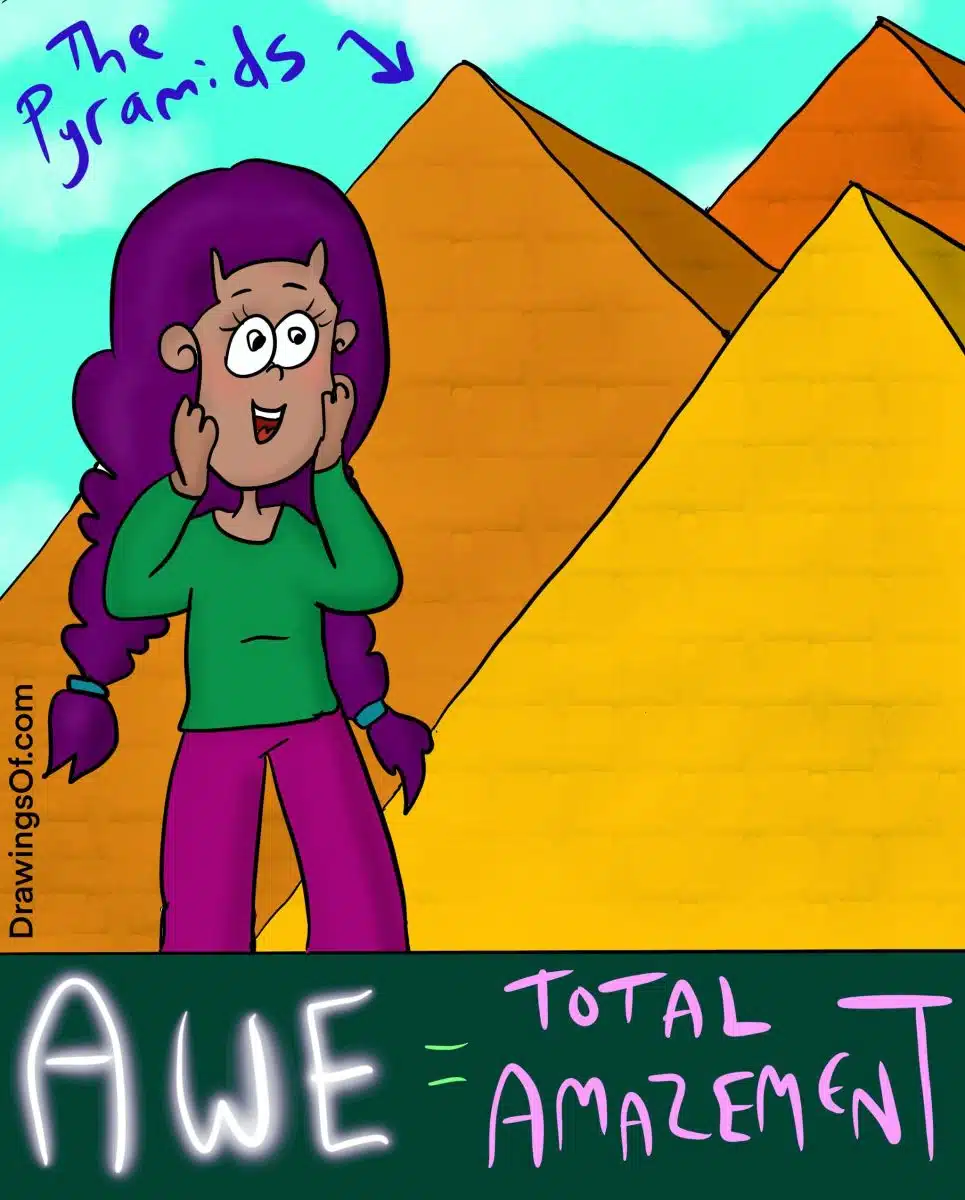 Sentences with "Awe" Used as a VERB:
The child awed her parents with how many veggies she ate in one sitting. Her mother didn't think it was possible for a four year old to scarf down 15 heads of broccoli!
The benefits of drawing awe me every time I pick up a pencil. After just five minutes, I feel happier. Drawing has superpowers for lifting one's mood.
The Adjective "Awesome" comes from "Awe"
You may be wondering if the common American describing word, "Awesome!" derives from "awe," and indeed it does — but be careful, because it's not used exactly how it "should be" anymore.
Technically, something that is "awesome" induces "awe," which means it is truly spectacular — on the level of the Great Pyramids of Egypt. However, it now is used for anything that's even mildly good or enjoyable. For example: "That rainbow drawing is awesome! Whose is it?" Now, the drawing may be pleasant to look at, however it's not on the level of the pyramids… but that's fine. Word meanings change over time, and we go with the flow.
Now that we understand the meaning of awe, let's move on to the aww meaning (or aw meaning, as we will see it can also be spelled).
What Does "Aww" or "Aw" Mean?
The sound "Aww" or "Aw" is an interjection — an utterance — that is onomatopoeia (a "sound effect word") for that sigh of emotion that people make when they see, hear, or experience something cute, sweet, or sad. When you think of the aww meaning, think of a sentimental tone or mood.
Aww Meaning
Unlike the fancy word "Awe," "Aww" is an informal word — not even technically a "real word" — and is often used either at the start of a sentence that explains the sentiment, or simply on its own. For spelling the word, it is acceptable to use either one "w" or two, though "Aw" is slightly more accepted.
Other spellings include: "Awh," "Awwh," "Awhh," and any number of "w" additions including "Awww" and even "Awwww" or "Awwwww." If someone writes "Aww we," however, they're possibly just misspelling the informal utterance, "Owie!" which is a cute way of saying, "Ouch, that hurt!" Let's go back to the actual word in question now, "Aww," and see how to use it in a sentence.
Examples of "Aww!" in Sentences:
"Aw, that flower crown looks really good on you. Definitely wear it to the dance next week — or even just every day!"
"Aww, I've never seen anything so hilariously sweet as that octopus with a top hat!"
"Aw, I'm really sorry that you forgot to do your homework because your hand disappeared overnight. Unfortunately, I still have to give you a zero until you make up the assignment."
VIDEO: Aww or Awe?
Should I use "Aww" or "Awe?"
Still wondering whether to use "Awe" or "Aw?" Ask yourself this: Are you in total amazement and wonder at what is happening, and are you going to use the word "awe" in the middle of a sentence to describe that? Use "awe."
Most of the time, however, if you're sending a text message or writing dialogue, you actually mean: "Aww," because you're trying to spell the sound that humans make when they feel moved by sweet or sad emotion. "Aw" or "Aww" can be used on its own, or at the start of a sentence.
The following sentence may help show the difference between these two words, and also provide a fitting conclusion for this post: "Aww, I'm so appreciative that you've read this whole article! I'm in awe of your dedication to learning different spellings of homophones, even though it can be frustrating at times. Keep up your great work!"
Feel free to use the comment section below to request an illustration of a specific other grammar, spelling, or ELA concept. It brings me great joy to create these drawings and tutorials and to hear how they help people, so share away, and do be in touch.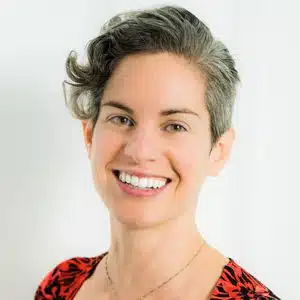 The author and artist, Lillie Marshall, is a National Board Certified Teacher of English who has been a public school educator since 2003, and an experienced Reiki practitioner since 2018. All art on this site is original and hand-drawn by Lillie. She launched DrawingsOf.com Educational Cartoons in 2020, building upon the success of her other sites, AroundTheWorldL.com (established 2009), TeachingTraveling.com (founded 2010), and ReikiColors.com. Subscribe to Lillie's monthly newsletter, and follow @WorldLillie on social media to stay connected!