Looking for Halloween drawing ideas that are good for all ages because they're not too scary? Allow me to present you with this cute ghost drawing tutorial: easy instructions for a BOO-tiful cartoon!
As background, my name is Lillie, and I'm an artist and teacher who loves hand-creating drawing lessons. The cute bat drawing was a hit, so it's time for more spooky sketches. Let's dive into the steps.
Cute Ghost Drawing Instructions
1. Make wide, shiny eyes, and a shy smile.
I always like to start my cute drawing ideas with adorable glistening eyes! Make sure to leave a sliver of white in each pupil to show innocence. The sweet smile and hopeful eyebrows are also key to making sure this is a kindly ghost — not a creepy one.
2. Sketch the "draped sheet" and ground below.
What's the classic shape of a ghost cartoon? A draped sheet, of course! It's a little like a triangle with a rounded top — and you can add in two small arms on the sides.
Make sure to draw a line for the ground several inches below the bottom of the ghost to show that it's floating. (This gives a similar feeling of "authentic surroundings" as the string of web we added to the top of our easy spider drawing.) Feel free to add a "BOO!" in the background, too…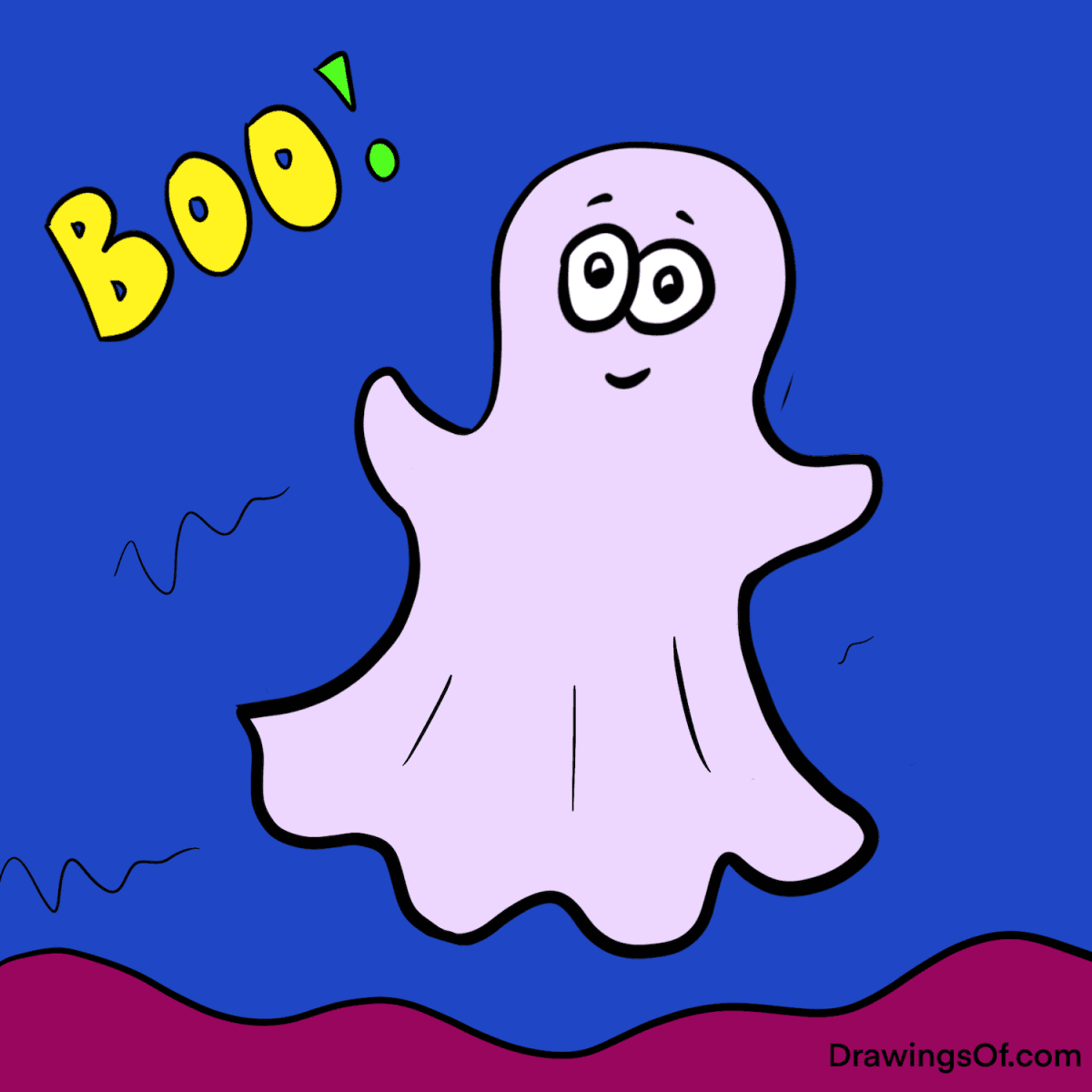 3. Add light color for the ghost, and dark for the background.
Though ghosts are classically white or light gray, I chose a very light purple when I added color to give extra sweetness, as you can see in my illustration above. Then I juxtaposed that hue with a dark night color for the background sky. This contrast helps your ghost "pop" off the page!
4. Shade the edges of your cute ghost drawing to show depth.
As you can see below, the last step is to add shading for depth along the sides of the ghost. I also put in some white highlights to show a sweet little belly, and some pink cheeks — much like our witch drawing had.
In the background, I added some darker patches to create the illusion of cloud drawings, then some blurred sparkles for stars. I vacillated about the best colors and shading for the "BOO!" but ultimately kept it a simple yellow — kind of reminiscent of moonlight.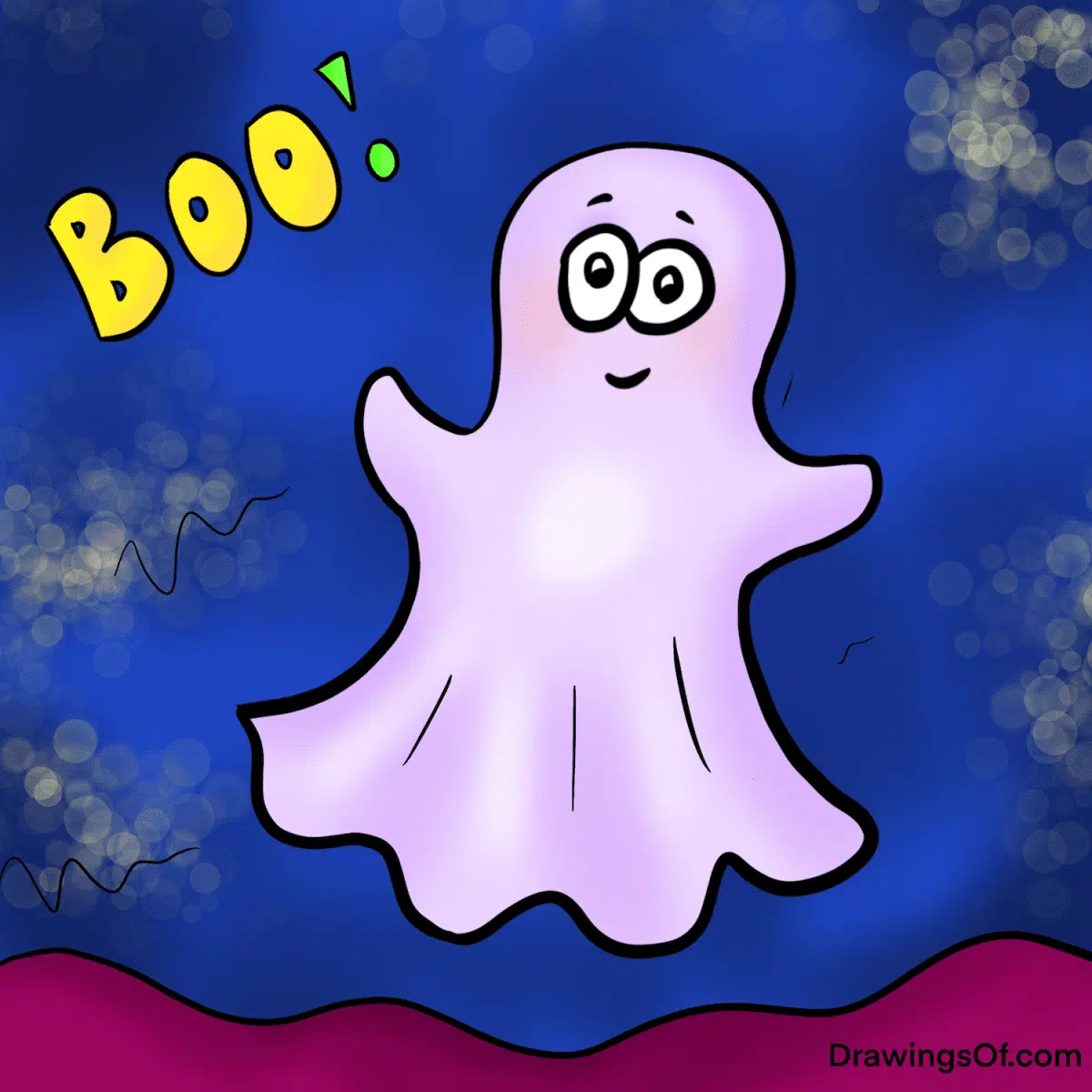 VIDEO: How to Draw an Easy Ghost
Ready to see the time-lapse video of my entire ghost drawing process — including all the different colors I tried for the "BOO?" Here you go! (Also, do check out my lesson on "Is Halloween capitalized?"
Cute Ghost Drawing, in Sum
I hope this tutorial on easy, cute ghost drawing has been useful and fun. What other cartoons would you like me to illustrate and teach next? Do share!
Want more? Check out my other Halloween-themed tutorials, "Easy Pumpkin Drawing," and a surprisingly colorful and creative take on spider web drawing...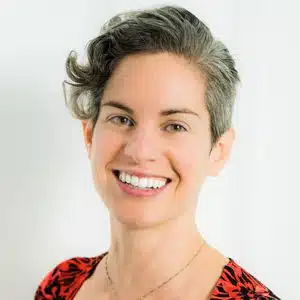 The author and artist, Lillie Marshall, is a National Board Certified Teacher of English who has been a public school educator since 2003, and an experienced Reiki practitioner since 2018. All art on this site is original and hand-drawn by Lillie. She launched DrawingsOf.com Educational Cartoons in 2020, building upon the success of her other sites, AroundTheWorldL.com (established 2009), TeachingTraveling.com (founded 2010), and ReikiColors.com. Subscribe to Lillie's monthly newsletter, and follow @WorldLillie on social media to stay connected!