Ready for an installment of our easy drawing ideas that will get you in a festive autumn mood? Let's learn how to draw a pumpkin: easy and cute instructions included… for Halloween, or any other harvest-like, fall time!
First, some background. My name is Lillie, and I'm an artist and teacher who delights in teaching such lessons as how to make a cute snail drawing, or if we're keeping to the Halloween theme, easy cute bat drawing.
I'm also the mother of two young children who are also fans of adorable hand-drawn art prompts. Ready for the lesson?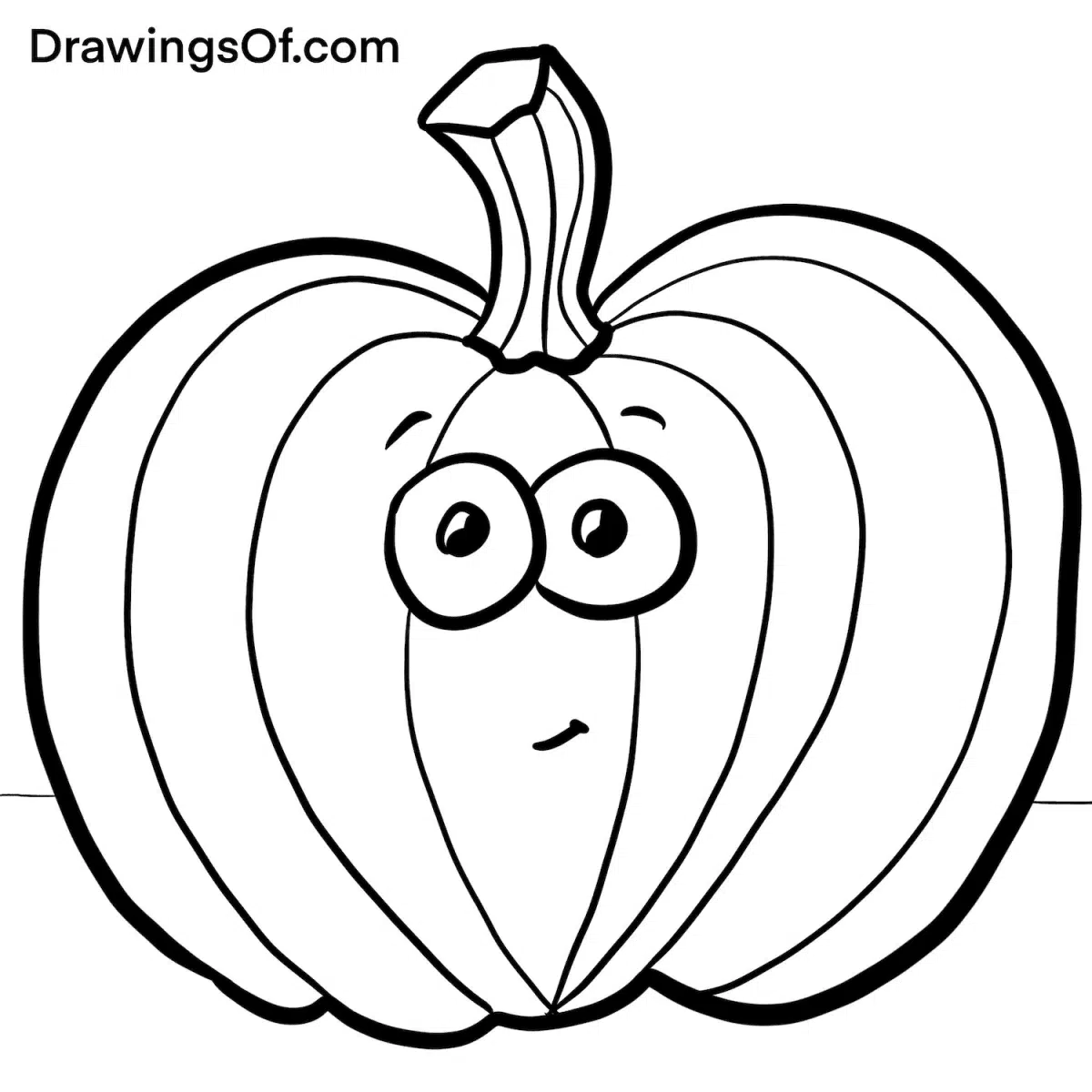 Pumpkin Drawing: Easy Instructions
As we go through this tutorial, please remember: Part of the answer to "Why is art important?" is that it helps us keep an open mind, and to have confidence in our own creative choices. Given this, take my "instructions" below loosely. In other words, feel free to alter any of the steps to fit YOUR style.
There is no ONE right way to draw a pumpkin! One of the benefits of drawing is that we get to go wild with options once we pick up a pen. Got it? Let's start.
1. Decide about the pumpkin's eyes and mouth.
My aim here is to draw a CUTE easy pumpkin, so the first place to start is with googly eyes — big black pupils that have a shine a white in the middle — and a happy little "U" shaped smile. (This shine is so central in making cute drawings!)
Now, do note that if you'd prefer to draw a jack-o'-lantern, the method will be different. With a Halloween jack-o'-lantern pumpkin drawing, the eyes and mouth should look like carved-out holes. I find that too scary and not adorable enough, so I opted for the former decision. If you want an even easier pumpkin, just leave the eyes and mouth out.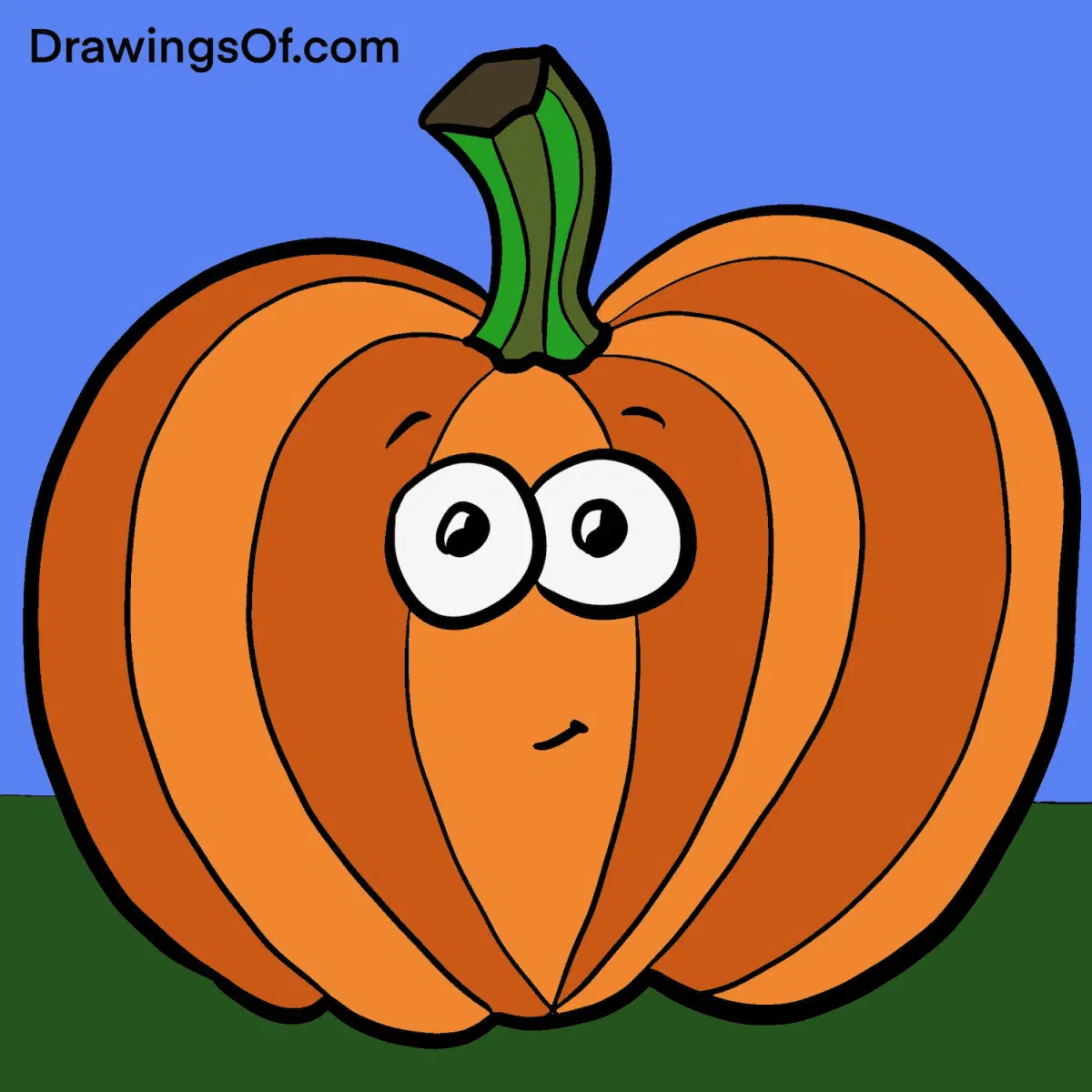 2. Draw the pumpkin shape.
The first key to making a pumpkin look like a pumpkin is that its shape is more "squished down" than an apple or orange. Make sure to add a dip at the top for the stem, and some "U" shaped bumps at the bottom for the ridges. (As you see, each of my Halloween drawing ideas has lots of freedom of expression for your artistic choices, but there are several central tips to keep the art looking like what you want to show.)
3. Add the ridges and stem.
The second key to making a pumpkin pumpkin-y is sketching curved lines from the top to the bottom that indicate the thick ridges along the sides — just be careful to avoid drawing the line through the eyes. Plop a thick stem at the top of the squash, simulating an almost wood-like texture. You can also make the stem curving or even curled at the end. (Note: This drawing became central to my lesson on how to spell Halloween.)
4. Begin coloring in the pumpkin drawing.
Naturally, the third feature that makes a pumpkin look like itself is the pumpkin orange color! (See: "Red and yellow make what color?" to learn how to mix this secondary color from scratch.) You'll see in my example illustrations here that I alternated darker and lighter oranges in my coloring — something that's not as realistic, but I felt was more exciting. Artistic license!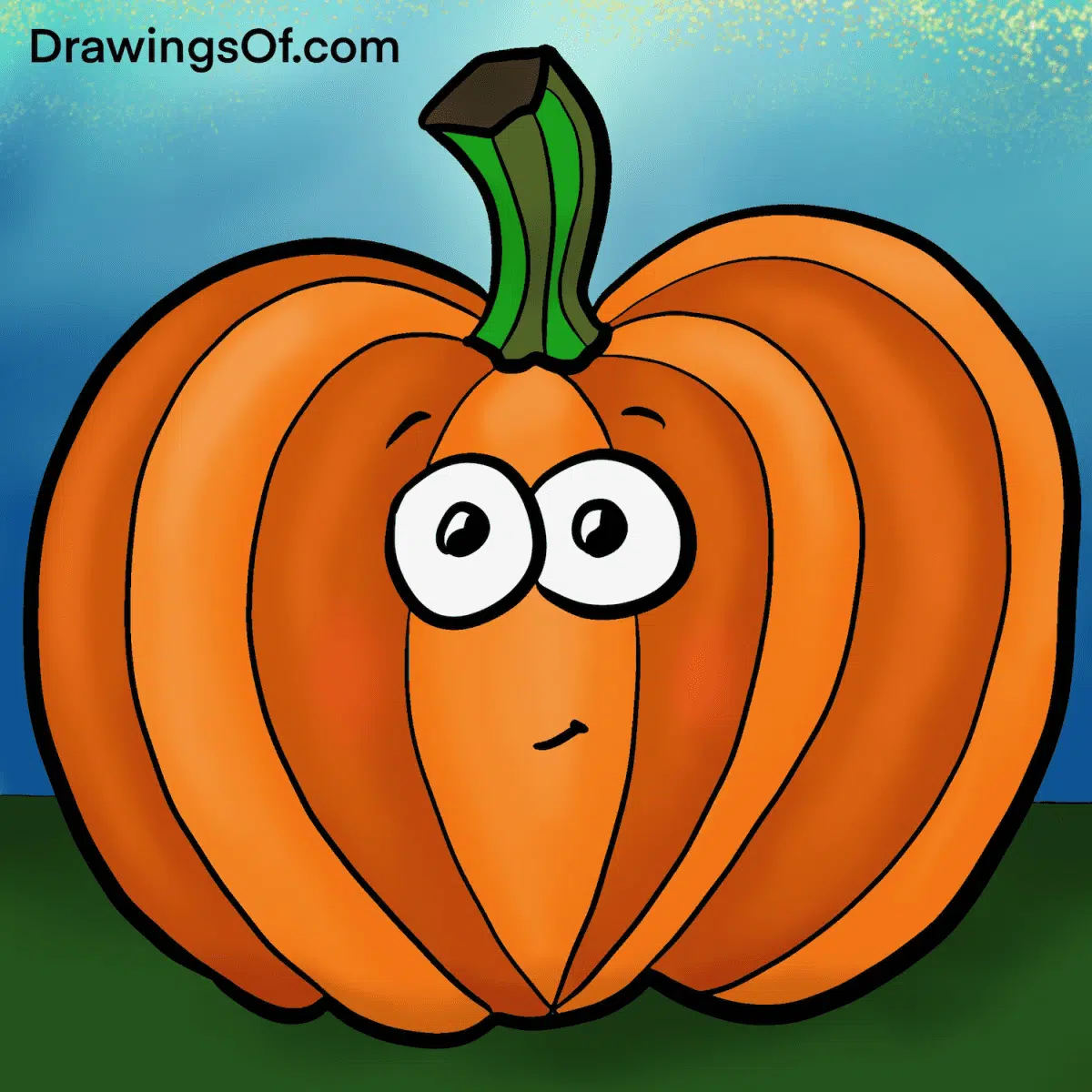 5. Add shading and highlights.
Shading the sides of the ridges and adding highlights in the middle of each is absolutely vital for showing the thick bands of the gourd's skin and flesh. For the shading, I recommend the autumnal terracotta color: what orange and brown make when mixed.
6. Create the background context.
Decide: where is your cute pumpkin sitting? To ensure juxtaposition of color so your drawing "pops," I recommend a dark green and blue background so it contrasts nicely with the orange of the squash. Maybe you want to add an easy spider web drawing in the background, or a cute ghost if you're going for the Halloween vibe?
If you want a little more zest in the sky, check out my cloud drawing tutorial, or the article about drawing the wind. Now, congrats — your pumpkin is now complete!
VIDEO: How to Draw a Pumpkin
Cute, Easy Pumpkin Drawing, in Sum
I hope this tutorial on pumpkin drawing — easy and cute — has hit the spot! Which other drawing prompts do you want me to illustrate? Do share!
While we're on the topic of Halloween and autumn or fall, allow me (in my teacher capacity) to also direct you to the article, "Is Autumn Capitalized?" Enjoy!
Want more? Check out my tutorial on how to create a cute, easy candy drawing.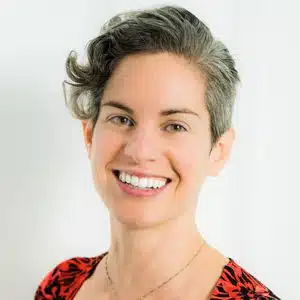 The author and artist, Lillie Marshall, is a National Board Certified Teacher of English who has been a public school educator since 2003, and an experienced Reiki practitioner since 2018. All art on this site is original and hand-drawn by Lillie. She launched DrawingsOf.com Educational Cartoons in 2020, building upon the success of her other sites, AroundTheWorldL.com (established 2009), TeachingTraveling.com (founded 2010), and ReikiColors.com. Subscribe to Lillie's monthly newsletter, and follow @WorldLillie on social media to stay connected!