Once there was a teacher who was preparing to welcome a set of wonderful students just like you. She knew this year would be different than any year before in her decade and a half in education, but with these differences could come new opportunities.
"Wow," she mused, "my job is to teach English, but that's not the only reason school matters."
"Huh?" asked her young son. "If education isn't just about reading and writing, why IS school important? What ARE you supposed to be teaching besides English?"
The teacher gave her son a snuggle with arms like an octopus and explained, "Especially in challenging times, a teacher's job is to provide a community to support perseverance, optimism, well-being, and respect."
Her son ate some veggies thoughtfully, then stated: "I don't know what most of those words mean."
Teaching Perseverance
"Perseverance is not giving up," explained the teacher to her son. "When school is done right, students can practice trying, not getting things perfect the first time, trying again with new strategies, and improving over time.
"Through the microcosm of getting better at English, Math, or Art through effort, kids can begin to see that hard work pays off. There are ways to get support to improve instead of giving up during that liminal, in-between time. The job of a good educator is to foster this perseverance by teaching metacognitive strategies for boosting effectiveness."
Teaching Optimism
"The next thing educators need to cultivate," continued the teacher, "is a sense of possibility and hope, even when times are hard."
"That's optimism?" asked her son, making a crown out of flowers.
"Correct!" exclaimed the teacher, tossing her son's stuffed whale toy in the air with glee. "Learning needs hope. We can only take in new information if there's a feeling we can USE it to make our lives — and this world — better.
"So even, for example, even if entire districts are doing distance learning and school buildings are closed, a teacher can help illuminate the silver linings of a challenging year –"
"– like being able to sleep a little later in the morning!" yelled the teacher's son. "Or shy students getting more of a chance to write back and forth with their teachers instead of anxiously worrying about the mad rush of kids yelling in the classroom."
"Exactly. As teachers, we need to acknowledge hard times and their profoundly difficult impacts on people, but we also can be pillars of hope and optimism, and teach how to find opportunity and innovation, in the context of things going awry."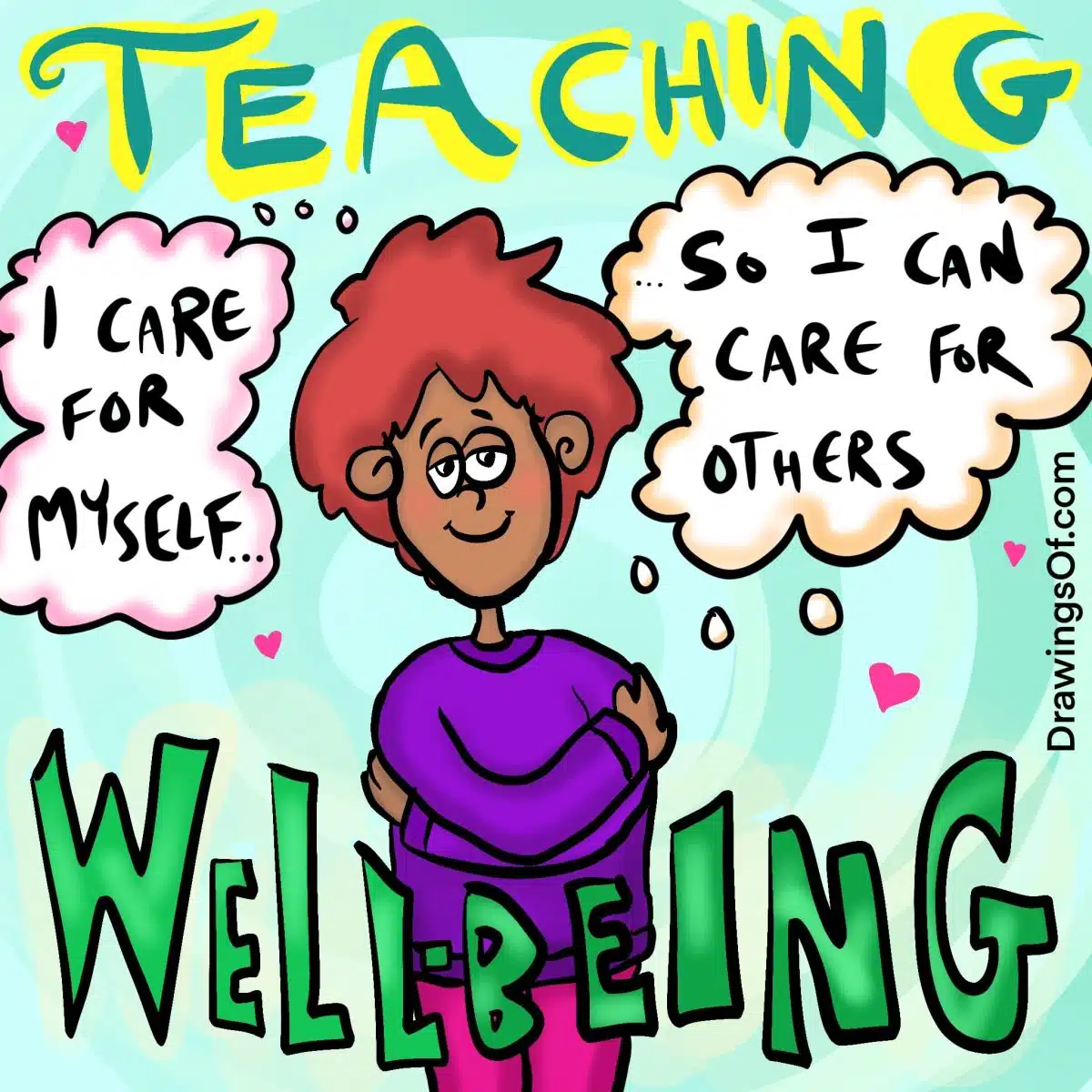 Teaching Well-Being and Respect
"So what is well-being then?" asked the teacher's son. "Sorry I don't know all these words."
"No need to say sorry," said the teacher. "We're all always learning, and we need to be compassionate and caring with ourselves. That's part of well-being. Creating well-being means learning to take care of yourself — physically, mentally, and emotionally — so you can live your best life… and have the strength to make the lives of others better, too."
The teacher's son nodded, and the teacher continued.
"Of course, a teacher's job is to guide others to treat each other with respect, and the first step in having the strength of heart to do that is respecting and loving OURSELVES."
"Sounds good," said her son. "I'm going to take care of myself now by playing outside!"
The teacher smiled and opened her school computer, which was juxtaposed next to a pile of laundry. As she watched her son playing through the window, she thought: "May this productive conversation foreshadow a surprisingly great, innovative, and illuminating year for all of us!"
VIDEO: Teacher Cartoon Time-Lapse
What Can Teachers Do to Make YOU Happy This Year?
So what do YOU think, dear reader? In an unprecedented and disorienting year — or in any year for that matter — what should educators do to make school a useful, nourishing, creative place, no matter what form it takes?
Shop "Teaching Optimism" Posters: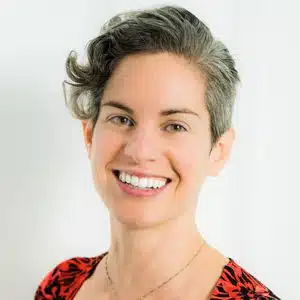 The author and artist, Lillie Marshall, is a National Board Certified Teacher of English who has been a public school educator since 2003, and an experienced Reiki practitioner since 2018. All art on this site is original and hand-drawn by Lillie. She launched DrawingsOf.com Educational Cartoons in 2020, building upon the success of her other sites, AroundTheWorldL.com (established 2009), TeachingTraveling.com (founded 2010), and ReikiColors.com. Subscribe to Lillie's monthly newsletter, and follow @WorldLillie on social media to stay connected!